TENS units are great for all aches and pains especially those in pregnancy, labor, and postpartum.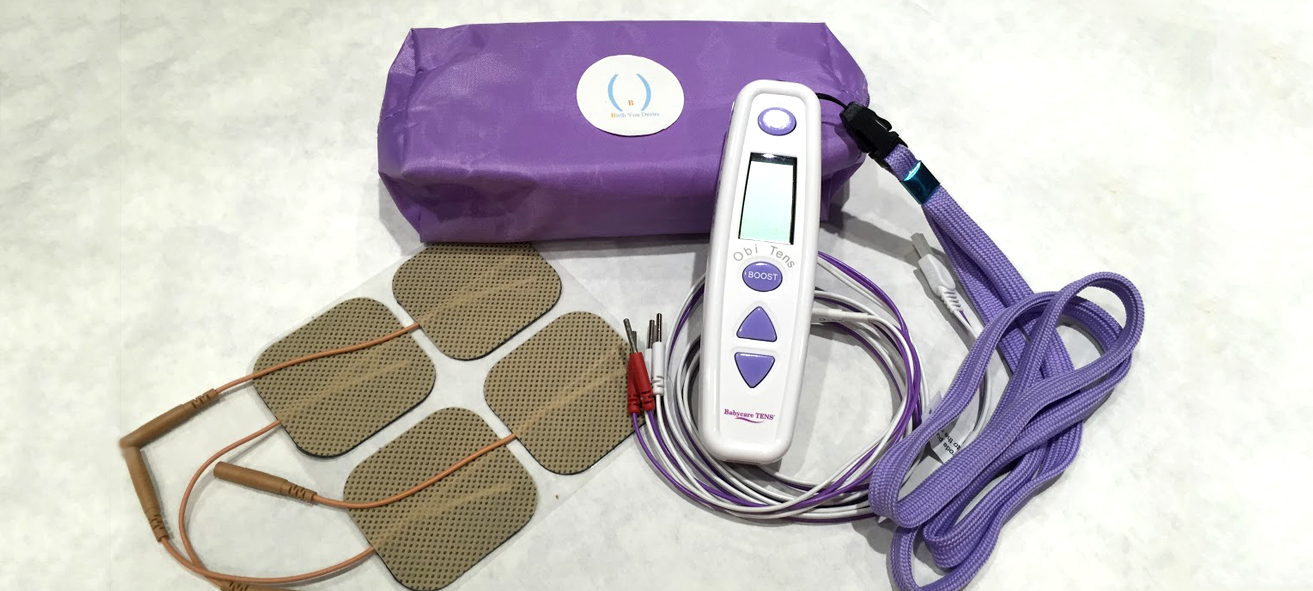 FAQs:


 FAQs: 

How does the TENS rentals work?
TENS stands for Transcutaneous Electrical Nerve Stimulator. The TENS unit releases a low-frequency electric current through the skin which stimulates your body's endorphins. When these sensory nerves are stimulated they naturally block the body's ability to perceive pain and help to release your own natural painkiller. This technique is called the "pain gateway theory".
When you can use a TENS unit?
You can use the TENS unit at home as soon as your contraction pain starts and continue to use it throughout birth. It can be used in both natural births, epidural births and medically managed births. It will not affect any monitoring or medicine so you can use it at any time except when using hydrotherapy as the unit is not water safe. The unit can also be used postpartum to manage any residual discomfort. There are no known side effects to mother or baby from TENS unit use and long term stimulation is not harmful. However TENS units are not recommended for those with open skin lesions, pacemakers or seizure disorders.
Should I practice using the TENS rental?
You are encouraged to try out the TENS unit when it arrives, so that you are familiar with how it works and the sensation it produces. Never use the unit for more than 45 minutes at a time before 37 weeks pregnant. Check with your provider approval. Each set of pads you receive are reusable up to 30 times with proper storage.
Can I use the TENS unit with wireless monitoring or an epidural?
Yes, the TENS unit can be used during labor, with an epidural, with wireless monitoring, and while waiting for a cesarean. Our TENS units are specifically made for obstetrics so that they can be used with wireless monitoring and will not interfere with hospital wi-fi or Bluetooth. 
It can also be used postpartum to help with discomforts after the birth by placing the pads 1-2 inches away from the scar postpartum.  
Can I use the TENS unit for recovery?
Yes, the TENS unit can be used during recovery for low back pain, achy shoulders from carrying a baby, and for cesarean scar recovery.
For cesarean recovery place the pads 1-2 inches away from the scar postpartum and run the unit for 20 minutes daily for 3 weeks. This can help prevent adhesions and a lumpy scar. 
How much does the TENS rental cost?
The five week rental fee is $58. This includes the TENS unit, 1 lanyard, 1 sets of leads, 2 sets of batteries, instruction manual, pain relief guide and carrying case plus a personal pack of four electrodes, which are for individual use. When the electrodes are stored as received they are good for 30 applications. Click here to view more options and rent your TENS unit online today!
How do I return the TENS unit?
Clean the unit and leads by wiping it down with the enclosed disinfectant wipes and discard the used pads & pads packaging. Put the TENS unit, leads, lanyard, instruction booklet, and batteries in the carrying case and mail it back to us or hand it to your BYD doula at your postpartum visit.
What Our Clients Are Saying:
Thank you so much for the rental. I arrived at the hospital with my TENS unit on and it turned out I was already 10 cm dilated! Baby was born 2 hours later. I'll be spreading the word!
The Obi TENS unit was a complete game changer. It allowed me to feel like I had some control in managing the intense back pains that accompanied my contractions. I truly believe that using the was TENS unit is what helped me get over a massive hurdle and achieve the natural birth I so deeply wanted. I will absolutely make sure I have a unit on hand when it is time for baby 2!
I did not want to use pain medication in labor, so I was interested in using alternative coping techniques for pain management. I ended up having a longer labor, and used the TENS unit for almost 12 hours. I could turn up the intensity of the stimulation during contractions to distract myself from the pain. The combination of the TENS unit and breathing allowed me to get through the hardest parts of active labor without pain meds.
I used the TENS throughout my whole labor and it was fantastic!  My husband was in charge actually, he would turn it on as soon as a contraction started in early labor, turn it off when the contraction ended, and repeat.  Then once I was in active labor at the hospital he looked at the monitor to know when the contraction was coming because I wasn't able to talk.  We used it for hours, as my early labor was about 4 hours (then it stalled over night), and active labor was another 5 hours.
The best part was that him being able to control it on his own and have a meaningful impact on my pain was super helpful, and I think it gave him a real sense of value.  
Let's start your birth Journey