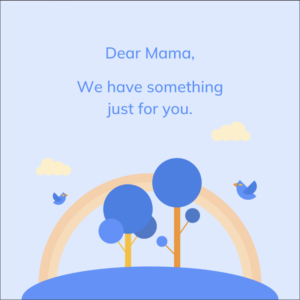 This one's just for you, mama
It's Maternal Mental Health Awareness Week.
Any new mom knows very well that taking care of yourself is hard postpartum. During pregnancy, we start sacrificing for this little person we've never met, but for the most part, we can basically do many of the same things we used to. But as soon as we become mothers, we have to do everything we used to do with less sleep when we're physically exhausted or in pain while taking care of a new little person. And maybe we're also experiencing every single feeling we've ever experienced times a thousand.
And that's just the baseline. When you add in societal expectations and unhelpful rules, biological challenges, and everything in between, it's…a lot.
Canopie was created when a new mom realized that mental health support for them pretty much came in two buckets – things that are logistically hard (expensive, scheduling, requiring childcare, etc.) or things that weren't really effective at helping them feel better.
They worked closely with maternal mental health researchers to design a mobile app (Canopie App) that you can access any time of day, read or listen to, and that's customized to the specific challenges you may be facing. The techniques they use are all rooted in evidence, and delivered in short sessions (12 mins a day, for 12 days) because you don't have any extra time!
And guess what? It's FREE for DC mamas and also free for Birth You Desire clients for the month of May 2022 using BIRTHD! Just enter your zip code when you sign up for the app!
The last thing you need is more work, more stuff to take care of. But taking care of your mental health can be easy, fun, and effective. It can help you develop a stronger bond with your kiddo and enjoy your job a little more.
No matter how you are feeling, you deserve support that works.
Learn more at @canopieapp or Canopie App