Maternity & Nursing Bras and the Importance of Fit
A bra that doesn't fit when you're not pregnant or breastfeeding is one thing, but what about when you are. Your breasts will go through the most dramatic amount of *natural* changes in your life, and in such a short amount of time, relatively speaking. So take care of them. If they are not supported then the delicate ligaments may not return to their former glory and if they are too supported (i.e. squished), then you could be doing more damage than good.
So, how do we get around this when our breast size is changing, our ribcage is expanding and compressing and then our boobs are heavier and need more support than ever? Why is it so important that my bra fits when I'm pregnant or breastfeeding?
Conception:  (1st Trimester)
One of the first signs that you're pregnant can be tender breasts, sensitive nipples, and feeling the weight of them more when you walk.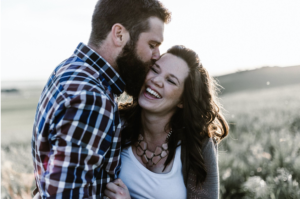 via @priscilladupreez (Unsplash)
In the first trimester, we recommend you don't wear wires or restrictive cup bras. Opt for a seamless bra that will be comfortable, allow for your breasts to increase in size, without restriction, and also be supportive. These bras are usually sized XS-XL, with each size fitting a number of cup sizes. In saying that it's not one size fits all.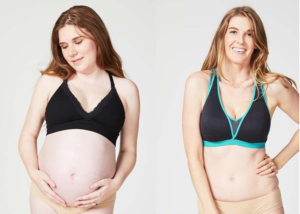 Via Cake Maternity:  Tutti Frutti and Lotus
Look for a seamless bra with the following qualities:
Made from high-density yarns with at least 8% elastane (this is the stuff that lets you fluctuate and allows your bra to return to normal).
Molded cups for depth. Avoid those that aren't as they will only flatten and squash your breasts.
It fits you when you are at your smallest and has enough room to accommodate your potential fluctuations.
Belly growing/body growing: (2nd—3rd Trimester)
During the second and third trimesters, your breasts settle down a bit. You may, however, require a different-sized bra due to the expansion of your ribcage. For this reason, good-quality maternity and nursing bras have 6 hooks and eyes to allow for this expansion.
Because your cup size remains relatively stable, it's okay to go into a flexible wired bra or one that's more cup specific. This way you'll feel more appropriately supported.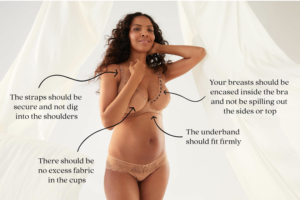 Via Cake Maternity:  Truffles Bra and Brief
In case you get confused about what hook and eye to fit on, here's an approximate reference: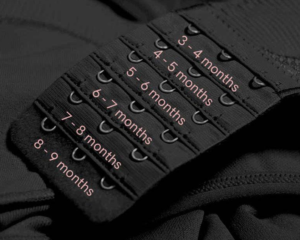 Via Cake Maternity:  Fitting Archives
Pro tip — around 80% of women will be the same cup size at 8 months pregnant as they will be after 6-8 weeks of breastfeeding.
When the milk comes in:   (4th Trimester)
In the fourth trimester (when you've had your baby and your milk is about to come in) your breasts may increase up to 5 cup sizes and fluctuate many times during the day when you're feeding. Not only are they a lot bigger, but they are a lot heavier. It's important that your bra not only fits you through these crazy days but also supports you. You don't want to be busting out the top of it, but if it's too big it won't support you at all.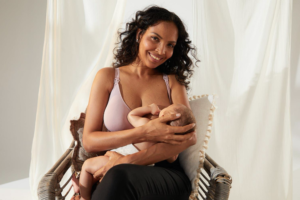 Via Cake Maternity:  Sugar Candy Seamless nursing bra in Blush
When your breasts are developing as a preteen, your ligaments have time to gradually increase in strength and be supportive without a bra. When you are breastfeeding, there is relatively no time at all. Your ligaments will be shocked by the extra weight and size. If your ligaments are damaged, then this ultimately means sag. Support them through this stage with a supportive seamless bra and your breasts will thank you.
After the storm:   (6-8 weeks postpartum)
After approximately 6-8 weeks postpartum, or when everything is settling down, your milk production will regulate and you'll be able to go into a flexible wired bra again or a more cup-specific bra.
What to look for in fit and why:
Top cup stretch — to allow your bust to grow with fluctuations.
Firm underband — the majority of support comes from your back band so look for a durable and supportive one.
Short stretch straps (say that quickly…) — the firmer and less stretchy your straps are, the more supportive they will be. Look for nice wide ones, too, if you're not concerned about tank top shows.
Supportive lower cup — the less stretch in this area the more your breasts will be supported.
Double layer — where possible, go for double layers. This will mean your bra is extremely well-made, durable, and will most likely stand the test of time.
Whatever stage you are through your pregnancy or breastfeeding journey, you can count on Cake Maternity to have something to support you, fit you, and make you comfortable. Whatever your size, style or stage, we've got you covered.
———–
Katie is the proud mum of two beautiful girls and has been responsible for all the designs, style, and fit at Cake Maternity for over a decade now.
Katie is a nursing bra specialist and a fit, pattern, and grading, technician. She is passionate about breastfeeding and the many benefits it offers to both mum, bub, and the environment.
She is determined to make the breastfeeding journey a comfortable, supportive, and beautiful one for all mums, understanding that it doesn't always come easy to everyone. That's why she has made it her mission to empower women as they mindfully navigate the world of motherhood and help make breastfeeding easier, through experience-driven innovation.