Making Your House Baby-Friendly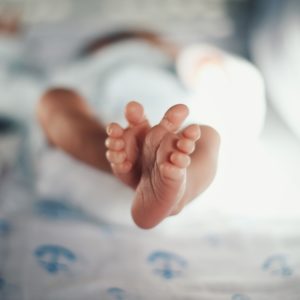 Welcoming a new baby to your family and house brings with it endless joys and a few challenges.  So how to make your house baby-friendly? Especially when it comes to incorporating all the clothes, toys, and props into your existing house.
As an experienced doula, I have worked with thousands of families and helped them to understand their needs as well as plan for home efficiency. So here are some of my best tips and hacks for all things baby-related.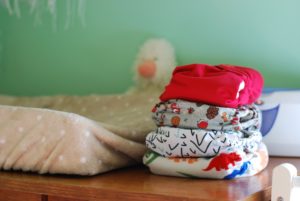 Make a baby station on each floor
Choose one or two (or more) locations to set up a baby station so that you don't have to travel too far for essentials. Some families use baskets, others use carts or changing tables. Stock the area with feeding needs, wipes, diapers, burp cloths, etc.  It's a great way for the whole family to know where to go for essentials.
Keep a filled diaper bag at the front door
While many of us aren't currently leaving the house very often due to the pandemic, trying to get somewhere with a new baby in tow can be stressful. Make things easier with a filled diaper bag at the front door.
What should go in your diaper bag? Consider diapers, wipes, burp cloths, bibs, bottles, pacifiers, a water bottle, snacks for the road, and a change of clothes.
Clean pump accessories smarter
If you're nursing, pumping, or a hybrid of both, you'll likely find that pumping parts and bottles take up tons of counter space and require a lot of work to clean. Rise your pump supplies after each use and then store them in the refrigerator so that you only have to sanitize them once a day even at work.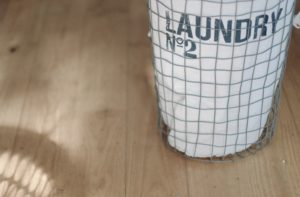 Wash smarter
Keep a bottle of stain remover spray in the kitchen and at the baby station to immediately treat any stains.  This way you are not spending a ton of time preparing laundry before.
Choose special lighting for nighttime diaper changes
I am a huge fan of string lights for labor and delivery as well as postpartum in the hospital to avoid turning on the bright overhead lights that can disturb both your sleep and the baby's rhythms. Why not use those same lights for nighttime diaper changes? Some alternatives are a clamp light with a pink light bulb or battery-operated candles.
Designate a bathroom spot for postpartum care products
The bathroom is a key space for postpartum aftercare, so stock your space with any supplies needed to recover from birth.  Some families use the back of the toilet and others have baskets on the floor next to the toilet or on the countertop. By keeping your products nearby, you can minimize mess and stress by looking for what you need during recovery.
What will you need? Consider buying ahead of time your overnight pads, day pads, and panty liners for the postpartum discharge.  You may also want wipes, tucks or witch hazel pads, and the spray bottle from your birthplace.  Some people also find having Motrin or Tylenol here is helpful.
Keep clutter minimized with storage spaces
Babies tend to come with a lot of stuff, so reduce clutter throughout your home. Have a storage bin near the front door for last-minute items. Store toys in a hidden container to cycle through. Have laundry baskets available to collect burb cloths and blankets as they get dirty.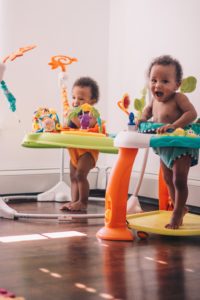 Have a variety of props around the house
Babies both need to be picked up and put down a lot. Have a variety of safe locations to put your baby down if needed. These can include a playpen, bouncy seat, play mat, or even a blanket.
Pass them on when you're done with them
Babies may use so much stuff and often for such a short amount of time. Once you are done with your items, you can pass them on to friends, family, or others in need.  It is a great way to save money, space, and the environment.