Finding Resilience With My Second Childbirth
When I struggle with an area of my life I often want a "redo," I take the time to assess what I learned from that experience and then try something very similar again. I often hope that my knowledge can help me have a better experience next time around. This has served me well in many areas. However, I wondered if this methodology would work after my first pregnancy, which was high risk and resulted in a traumatic birth. Could I overcome that very difficult experience with second childbirth?
I lived with the fear of having another traumatic childbirth experience from the time my first child was born until my second one arrived. Thankfully my story is one with a happy ending. It's a beautiful narrative about how a baby can ease her mother's worries, end a chapter of grief and concern, and pave the way for a beautiful relationship from day one. Here's what I learned. I hope the story of my second childbirth helps other mothers who also had traumatic experiences with a first pregnancy and/or birth and would like to have a second biological child.
Feeling at ease with my beautiful second child during our beach holiday at the end of my husband's paternity leave.
Wait until you are ready.
I promised myself I wouldn't have another biological child until I was ready. For me this meant rebuilding my body, having some time child-free time both by myself and with my husband, getting my psyche back in order with good therapy, and having the necessary medical work done (for me this even included a surgery) so a second pregnancy could be as healthy as possible.
The surfing lesson I took when I was only three weeks pregnant before the tests would give me a positive result.
I also did a self-evaluation of everything that had gone well with the first pregnancy, birth, and postpartum experience as well as elements I wanted to change. This was a great planning tool! For my second childbirth, I found a new doctor team and brought in the amazing doula Ursula who could help me no matter what arose, as she had a background in high risks births and a lot of experience.
Prepare for it to still be hard and that curveballs may happen.
I didn't like the feeling of being pregnant the first go around, as I was nauseous the entire time. During my second pregnancy, I felt so ill, and doctors diagnosed me with hyperemesis gravidarum. This nausea was another level, and potato chips were my friend much of the time.
In the early days of my baby bump. I may be smiling, but I didn't feel great
Less than a month after I lost my grandmother I found out about my second pregnancy. I thought I was pregnant before the test said so. In that season of deep grief, I was struggling to connect with anyone and barely holding it together. Somehow I just knew it was a girl, the way I knew the first was a boy (yes, I know this is not scientific). It was such a blessing during a rough time. I got exactly what I hoped for: a son and then a daughter. My daughter was born two and a half years later, almost to the day.
My second was a c-section. It took almost an hour and was still a stressful and physically challenging experience. Having things go slowly—from entering the room to the epidural going into the procedure length—it was a bit nerve-wracking. It was not as stressful as the emergency situation, but it did give me time to process the shiny steel instruments.
Right before my planned C-section. I appreciated knowing the date and time after the chaos of my first birth.
Make the right pregnancy, birth, and postpartum choices for you.
I agonized over whether to try for a VBAC or have a scheduled c-section for my second childbirth. The first four months after my first c-Section was rough, however, I had recovered well long-term. The advice that most resonated with me was from my friend who had an unmedicated first vaginal birth and second c-section with twins. "Go for the C-section, as your body has already been messed up in that way."
I picked a c-section for many reasons. At the time, I wasn't sure if I wanted a third child, for example. I had conquered a c-section before, and I had a good pre-birth and postpartum PT plan. But boy did I obsess over the choice! I was surprised that my doctors gave me the option of a VBAC, but this pregnancy was different in many ways. It just didn't have the risk of the first, even if I could never fully get my mind around that while pregnant.
I also took off more time to spend with my daughter than expected. Three months after she was born I wasn't ready to go back to work full time, while with my son I was so happy to be back. I was lucky to be in a position to just work part-time then.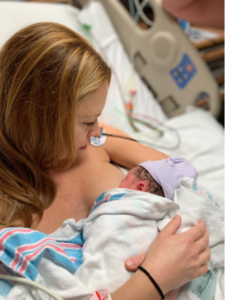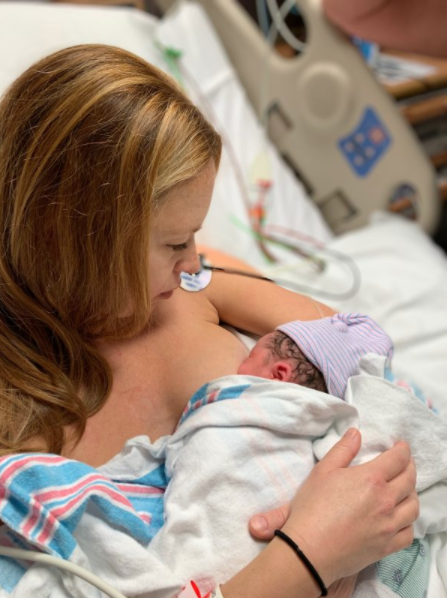 Embrace those magical moments when they do happen.
I loved hearing the sweet little cries when my babe came out, and what a healthy little girl she was. My favorite second childbirth memory is of the song "Dear Theodosia" coming on my birth playlist (the Ben Folds and Regina Spektor version), singing it with my husband, and the anesthesiologist stated what a great song it is.
The most amazing part of the birth was afterward when it was time to latch. I loved holding my sweet girl, and I couldn't believe it when she latched right on. And then she stayed on for AN HOUR AND A HALF. Let the snuggling begin!
Loving my little girl's first latch! It was one of the most magical moments of my life.
With my first child, I felt I couldn't really care for him physically. With my second I was so happy to hold and feed her. I told her father to sleep at night in the hospital, as I had this one. With my first, I relied on my husband heavily. I wanted the chance to care for my baby myself and I still cherish those "just us" times.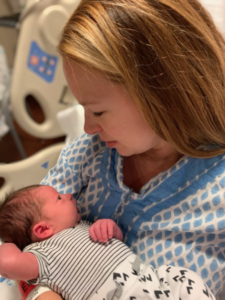 Be open-minded about how the new mother/child relationship may unfold.
A strong connection, right from the beginning!
Caring for my second has been easy and beautiful so much of the time. I naturally have known what to do at nearly every step, trusting my gut. The joy of being a second parent is more than I had even hoped for, with my perfect little girl.
Celebrate yourself, your bravery, and your resilience.
This is a story of hope, resilience, rebuilding, and rewriting the narrative. It is one where I tackled my fears head-on, took on months of unpleasantness and years of worry and ended up with the most precious prize. All kinds of unique things came together to make this possible, including getting great doctors just six months before they retired. Somehow all the puzzle pieces aligned with the gift of my daughter.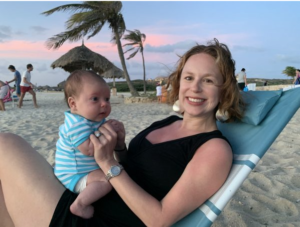 Originally published at https://washingtondc.momcollective.com/pregnancy-postpartum/birth/my-birth-story-finding-resilience-with-my-second-childbirth/
Author: Rebecca Ballard https://www.mavenwomen.com/
Rebecca is passionate about market-based social change, values-based consumptive behavior, and ending homelessness. She founded the DC-based sustainable fashion company Maven Women (www.mavenwomen.com) to create a socially conscious option for elegant, flattering women's attire and "move the needle" in the global garment industry. Rebecca has two children, Nathan (2017) and Lily (2019). Her parenting passions include social justice and minimalist parenting, (re)claiming her authentic self in her journey, and hyper-local child-raising. Likes: vegetarian street food, sunning & swimming, long city walks, sleeping late, old Hollywood fashion. Dislikes: mushrooms, driving, the saying "everything happens for a reason", being told something is impossible.