WHAT MAKES A GOOD PREGNANCY SNACK?
It is common in pregnancy to find yourself dealing with odd cravings for snacks, hunger pangs, and even nausea. Food aversions can also make meal planning challenging.
It's common to hear people say that when you're pregnant, you're eating for two. While it's true that you're also nourishing another person, you don't need to eat double your normal calories. Typically, your body doesn't need additional calories until the second and third trimesters. And then you will only need about 200-300 additional calories per day per baby you are carrying. 200 calories may be nothing more than one or more additional healthy snacks.
One simple solution is to have quick and healthy snacks on hand to keep you satisfied in between meals. Ideally snacking every two to four hours, if possible. If frequent snacking is not for you, then listen to your body, fuel yourself with healthy foods, and eat when you're hungry.
What should you look for?
Look for nutrient-dense snacks with a good balance of protein, complex carbohydrates, and healthy fats. The snacks should be easy to prepare, easy to store, and interesting to you. Below are some snack ideas that are quick, healthy, and sure to satisfy your cravings.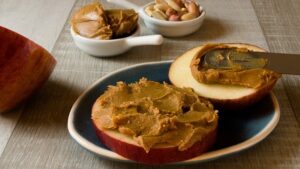 APPLES AND NUT BUTTER 
Wash and slice your apple, then top each slice with a dab of peanut butter. Consider avoiding traditional peanut butter which is full of sugars and fillers. Instead choose an all-natural nut butter that's composed of just two ingredients: nuts and salt. Or you can try almond, sunflower, and cashew butter.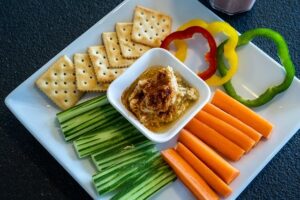 HUMMUS WITH VEGETABLES  
A personal favorite of mine is cutting vegetables like carrots, celery stalks, cucumbers, or bell peppers into hummus. Hummus is easy to make yourself but it also comes in creative flavors to mix things up.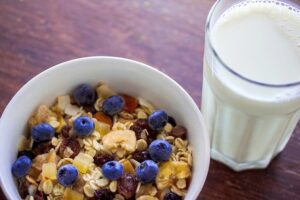 OATMEAL, FRESH FRUIT, AND MILK
Oatmeal is a great snack throughout the day, not just for breakfast. Oatmeal is high in fiber, easy on the stomach, and keeps you fuller longer. It's also known to lower cholesterol. Blueberries are a great source of antioxidants and can help relieve constipation too. For a different spin, try yogurt instead of milk or granola or cereal instead of oatmeal.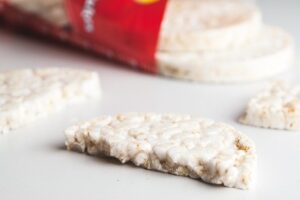 RICE CAKES
Rice cakes are easy snacks that can help settle an upset stomach. Try adding sliced bananas on top for extra potassium, fiber, and vitamin B6. Bananas can also help relieve heartburn. Or nut butter for added protein.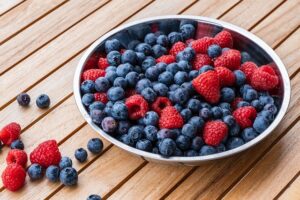 GRAPES AND BERRIES 
Have a container of pre-washed washed grapes and berries handy for easy snacking throughout the day. You can quickly add them to cereal, yogurt, or salads. In the summer, try them frozen for a refreshing treat!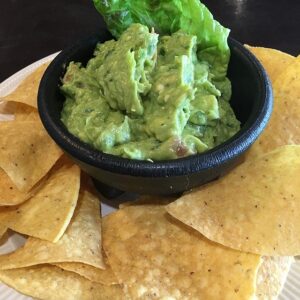 TORTILLA CHIPS, GUACAMOLE, AND SALSA
If you're craving Mexican food, you can satisfy your taste buds with some tortilla chips, guacamole, and salsa. For a simple "guacamole," mash up a ripe avocado, and add salsa, a splash of lime juice, and a sprinkle of sea salt. Avocados are rich in healthy fats, potassium, vitamin K, and folate.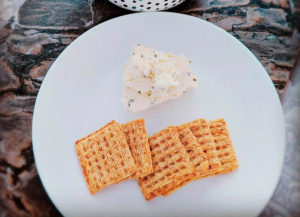 PREPACKAGED SOLID CHEESE AND CRACKERS 
String cheese and Babybel cheese are fun to eat right out of the package and they travel well too. Try cheese and whole-grain crackers together for a no-fail, satisfying combination. Cheese and apple or pear splices are equally satisfying, Crackers are easy on the stomach if you're experiencing them. Remember to avoid soft cheeses when pregnant.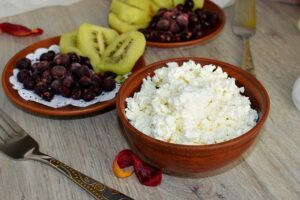 COTTAGE CHEESE AND PINEAPPLE
Some people shy away from cottage cheese because of its unique texture. However, its ingredients support immunity and bone health. If you can't get over the lumpy texture, buy whipped cottage cheese—it features all the health benefits with a smooth texture that's closer to a mousse. Top with fresh pineapple chunks to add flavor, sweetness, and fiber.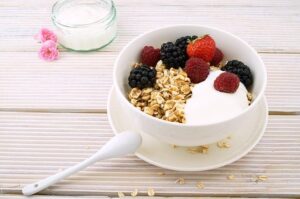 YOGURT WITH FRUIT AND GRANOLA
Greek yogurt packs a big punch. It's high in protein and low in calories, and has natural probiotics, aiding digestion. Add a small handful of granola for an extra crunch. Granola comes in a variety of flavors, as well as gluten-free, and vegan options. Sprinkle with fresh berries or fruit. For a twist, make a yogurt parfait. Layer yogurt, sliced almonds, and fruit. Then drizzle with agave nectar to top it off. The added nuts will boost your protein intake.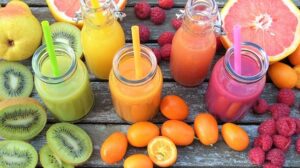 WHOLE FRUIT SMOOTHIES 
This is my summer favorite! Throw some frozen strawberries, a banana, blueberries, a handful of spinach, and some yogurt or almond milk into the blender to make a delicious smoothie that's both filling and nutritious! You can add whatever fruit and leafy greens appeal to you, and it's a great way to get your greens without even tasting them!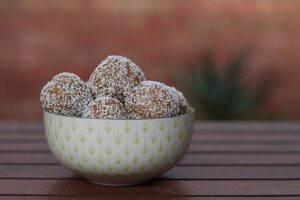 PROTEIN BARS OR HOMEMADE ENERGY BALLS
Grab your favorite protein bar for an easy, on-the-go snack, or try making homemade energy balls. Simply mix together oatmeal, peanut butter, honey, chocolate chips, and chia seeds. Roll into balls and refrigerate.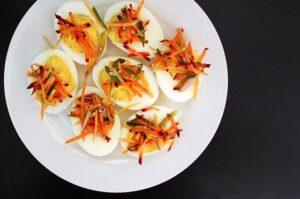 HARD-BOILED EGGS
Eat the eggs with some whole-grain crackers for a yummy, satiating treat. Other egg options include egg salad, egg burritos with salsa, and omelets.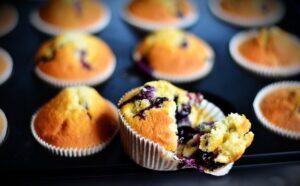 MUFFINS 
If you've got some ripe bananas on hand, make some banana muffins! Or consider blueberry muffins, corn muffins, or dare to try zucchini muffins. For an extra-sweet treat, add a few chocolate chips! Bonus- you can make a big batch and freeze them.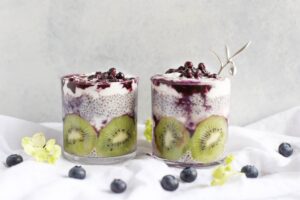 CHIA PUDDING
Chia pudding is a healthy treat that makes a great snack or dessert. Chia seeds are high in fiber, iron, calcium, and Omega-3 fatty acids. Try one of the many recipes out there. There are some amazing ones with dates, vanilla, cashews, and cinnamon.
Finding healthy, appealing snacks during pregnancy can be difficult. This list is just some of our favorites! Remember that there are lots of options out there that we did not list. Be creative and combine different foods, ask friends for recipes, and don't be afraid to try something new. Find what works for you and is nutritious and beneficial for your pregnancy.