Visit us at the Holy Cross Baby Fair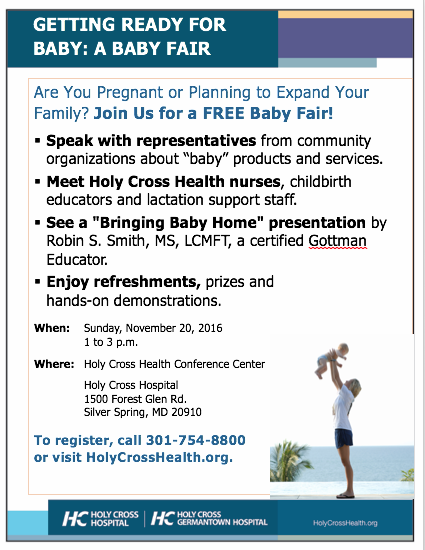 Stop by our table and visit with us on Sunday, November 20th, 2016 at the Getting Ready for Baby: a Baby Fair.
Holy Cross Hospital is sponsoring a FREE baby fair to the greater community. You will be able to stop by our table and others to speak with local birth workers. Meet some Holy Cross health nurses. Watch a presentation on 'Bringing Baby Home". And enjoy refreshments, door prizes and hand-son demonstrations.
Please call 301-754-8800 to register for your FREE spot.
Holy Cross Health Conference Center
at 1500 Forest Glen Rd., Silver spring MD, 20910
From 1-3 PM
Click here to visit an  Amazon list crafted by our students and clients for parents approved books and props for pregnancy through infancy.