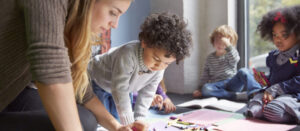 Finding Affordable Child Care
Many new parents are concerned about child care expenses when going back to work after having a new baby.
Leaving your baby for the first time can be difficult, but finding a loving, qualified provider can help ease your anxiety. Unfortunately, the best child care providers often have long waitlists and come with a hefty price tag. In circumstances like the pandemic, finding child care is an even more complex topic. With states encouraging their residents to stay home, the need for child care flourishes for parents who must work from home or parents whose jobs don't allow that flexibility.
The stress of having to compromise on the quality of care, as well as the burden of figuring out how to afford it, adds to the anxiety parents face every time they kiss their babies goodbye and head off to work. In fact, the lack of affordable, quality childcare forces 13% of mothers with children ages 5 and under to leave their jobs to care for their children themselves.
Finding the right childcare can be challenging, but understanding the real costs of quality care, as well as learning tips for how to leverage your savings and afford the best care for your new baby, will help you go back to work with more confidence and less financial stress.
Challenges of childcare
When choosing the right provider for your family, there are a few important issues to consider: the cost of care, the quality of care, the type of care you want, and the availability of that care.
Cost
In a 2016 poll among U.S. parents, the most common challenge stated in finding childcare was cost (27%). On average, childcare costs about $250 per week, or $13,000 a year. Infant care costs more than college in 33 states, without the benefit of saving 18 years for it.
Determining what type of childcare you want
Choosing what type of child care best fits your family at least partly depends on your work schedule. Do you work part-time, nights, or from home? Every parent has different needs and thankfully there are childcare options to accommodate them. Working from home and finding child care may seem counterintuitive to some, but just like all members of the workforce, remote workers have professional requirements or goals that they plan to meet. According to the Bureau of Labor Statistics, in 2017, 23% of US workers did some amount of their work from home.
Attending virtual meetings and achieving the requirements of your job is difficult if you have to also watch over your children at the same time. Just like you can't always predict how your child will behave, you don't know what the workday will hold. That's why juggling both doesn't have to be a reality.
There are many childcare options to choose from, from hiring a nanny to finding a preschool. Each option provides a different level of care and comes with its own price tag. Consider the pros and cons of each type of care to help you find the best match for your family and your finances.
Nanny
A nanny offers full-time or part-time care for your child in your home.  Some nannies live in your home with you and others do not.  What makes a nanny a nice choice is that they can better meet your scheduling needs and are available to work long odd hours. Plus, most nannies also offer additional household services, such as light housekeeping, running errands, and driving children to their daily activities.  A nanny costs an average of $19 an hour, but you will also need to factor in the cost of payroll taxes since a nanny is considered an employee.
Nannies often do not have the training that daycare providers have, although you can find some who are certified in CPR and have taken child development classes. They also tend to focus less on educational activities and social development than a daycare center would. A nanny can give your child more one-on-one attention, however, creating a stronger caregiver attachment.
When hiring a nanny, look for someone who is patient with children and can be depended on. Other good factors to consider are education and experience. Nannies are not regulated, but you do want to see evidence that the nanny takes the role of child care provider very seriously.
Babysitter
Babysitters can be anybody but are most often a teenager or an elderly adults. They are not regulated or licensed and are typically flexible in their hours. Babysitters usually do not provide full-time care and are most often used for evenings, weekends and last-minute childcare needs. The average cost of a babysitter is $16.75 for one child and $19.26 for two kids, but this varies by location, age, and experience. Plus, it is worth noting pay is often negotiable with a babysitter, as it is a less formal arrangement.
Like a nanny, babysitters come with less training and don't emphasize educational activities as much as a daycare center would. However, a babysitter can give your child exceptional one-on-one attention, even more so than a nanny, because they usually spend the majority of their time playing with the children, whereas a nanny often has other household duties as well.
When choosing a babysitter, look for one who is energetic and playful. A sense of responsibility and accountability is also important. A babysitter should be able to perform light housekeeping duties related to a child's care, such as washing dishes after feeding the child dinner.  Because babysitters are most often teenagers, it is important to look for someone who is reliable and shows up when expected.
Au pair
An au pair is a young adult from another country that provides care in exchange for the opportunity to live with an American family. They are very similar to nannies, in that they live in the home with the family and are very flexible with their hours. One of the biggest benefits to hiring an au pair is cultural exposure, as your au pair can teach your child about his or her own culture.
An au pair generally works about 45 hours a week, with an average cost of $18,500 a year. When you consider a nanny, this is often a cheaper alternative for the same type and quality of care. When choosing an au pair, consider the person's personality above experience. Child care skills can be learned on the job, however, this person will be living with you, so you want to make sure he or she is a good fit for your family.
Daycare
Daycare is a common choice for parents because it offers full-time or part-time care during normal business hours.  Most daycare centers accept children from six weeks old to around ten years old, or whenever the child is old enough to legally stay home alone.
There are two types of daycares: in-home family daycares and daycare centers. In-home daycare is childcare offered in the provider's home. The average cost for in-home daycare is around $159 a week, or $7,627 a year.
Daycare centers often resemble a preschool setting and cost around $248 a week for an infant – or about $11,896 a year.
There are a few things to consider when choosing between an in-home family daycare and a daycare center. Daycare centers tend to be more structured, with a focus on education and social development, although some in-home family daycares can also have a similar structure and focus, depending on the provider. In-home family daycare providers, however, can give your child more individualized attention than a daycare center can, simply because there are often fewer children.
There are several things to consider when choosing a daycare. Once you check off the basics, such as safety, environment, and quality of care, it is important to get a feel for the culture. Does it feel warm and welcoming to you? Are the children happily engaged? Do the providers truly seem to enjoy interacting with the children? Use questions like these to guide your research as you explore daycare options near you.
Preschool
Preschool is generally for three to four-year-olds. Hours vary; some provide care for just a couple of days a week and some provide care for the full week. You can find half-day and full-day programs. Preschool settings are highly structured with a focus on education and socialization.
Some preschools are free, depending on the setting. Otherwise, preschool fees are similar to daycare centers, averaging around $4,460 to $13,158 per year, or $93 a week to $275 a week.
Early childhood education programs
Early childhood programs promote the school readiness of children from birth to five years old. They are generally for lower-income families and you can find them located within childcare centers, public school settings, and sometimes at in-home daycare settings. These programs are free to those who are eligible.
On-campus after-school care
On-campus after-school care provides child care for elementary students, grades Kindergarten through sixth.  The focus of these programs is to fill the child care gap between school hours and normal business hours. It is generally provided by the school or another nonprofit and costs around $25 to $75 a week. They offer a nice balance between the structured classroom setting and the casualness of in-home family daycare. This is because most after-school providers understand that a child needs room to unwind after a long day in school, while still instilling good habits, such as setting aside time for homework.
Childcare availability
The majority of families use childcare centers because they are the most widely available choice and the quality of care is pretty good for what you pay. In a 2016 poll amongst parents, daycare centers rated second in quality of care, just behind relative care. Because of this, daycare centers fill up very quickly.
Daycare centers can typically only care for Three to four infants and three to six toddlers for every trained adult. This limits how many new babies centers can take on. The waitlists are long and move slowly, as children need to age out before space becomes available.
If you are pregnant or trying to get pregnant, you need to start searching for daycare now. The faster you get on a waitlist, the better chances you have of landing childcare.
It's also good to note a lot of centers require a holding fee or a deposit. It may or may not be refundable, but some places may apply it to the first month of care. The fee will vary.
Location of childcare
Another obstacle to overcome when choosing child care is the location of that care. Finding child care that's located in close proximity to your home or work is ideal, especially in cases where you may need to get there quickly, like when a child becomes sick.
You may also want to consider the overall setting of where your child receives their care. For example, a daycare located in a residential setting versus an urban setting can provide different types of benefits and opportunities, depending on what's important to you and your family.
Costs of child care
Child care puts a financial strain on a lot of young families. In fact, 31% of parents report childcare has posed a financial burden and four in 10 parents say childcare is not affordable.
The U.S. government defines "affordable" child care as consuming no more than 7% of a family's income. Yet, the average family spends 10% of their income on child care, with nearly half of all American families spending 15% or more.
Lower-income families spend a much higher percentage of their income on childcare. Young adults just starting their families often fall into this category, because young adults are just starting out in their careers as well, so they are not making as much as their older counterparts. These young parents are often paying off college debt and buying houses when they start their families too, so money gets tight.
Infants cost more than older children because of the higher level of care required. Understandably, the more children you have in care, the higher the cost becomes. Although, some providers will offer a sliding fee or a discount for additional children.
A big challenge many parents find themselves facing is minimums. For example, parents often have to pay a set price whether their child is there or not. If a child is home sick or not in care that day, parents still pay.
The cost of child care continuously goes up, too, adding to the problem. Two-thirds of parents say they are spending more currently than they did the previous year. If fact, the cost of child care has consistently increased almost every year since 2014.
This chart depicts the average weekly cost year over year of child care at a daycare center:
| Year | Average Cost of Childcare |
| --- | --- |
| 2014 | $188/week |
| 2015 | $196/week |
| 2016 | $211/week |
| 2017 | $211/week |
| 2018 | $213/week |
| 2019 | $211/week |
Child care costs by state
Of course, child care costs vary by state. Some states cost significantly more than others. Child care costs $5,436 a year in the least expensive states and goes all the way up to $24,243 a year in the most expensive states.
Wondering how much you should set aside for child care? Take a look at a few of the average child care costs in select states across the U.S.:
 Michigan: $10,861/year or $209/week
 Minnesota: $16,087/year or $309/week
 Mississippi: $5,436/year or $105/week
 New Jersey: $12,988/ year or $250/week
 South Dakota: $6,511/year or $125/week
 Washington: $14,554/year or $280/week
 Washington, D.C.: $24,243/year or $466/week
How to pay for childcare
There are many ways to cover childcare expenses, such as tax credits, flexible spending accounts, and grants or subsidies. Learn more to discover which options might be right for you here or by talking to your accountant or fiduciary.
The bottom line
During such a stressful time in a young parent's life, it's easy to lose sight of what really matters.
Maureen Hams, the community services director of a community action agency that also houses the ChildCare Aware program, shares, "Child care can be seen as such a burden, but it can also be seen as an investment in your child and your future. Making the childcare payment is not always easy and can be a challenge for many parents and guardians. But think about it as a short-term investment in your child and your family. Quality child care keeps children safe and healthy and helps children develop the skills they will need for success."
If you desire to go back to work, figuring out how to pay for childcare might seem overwhelming. But with a little creativity and a lot of financial planning, it is possible.
Author Shannon Lambert
See the full article here.