Preparing the Family for a Newborn
There are several things parents can do to minimize the stress of a newborn.  By preparing the family, you can help your child adjust to necessary changes even before you bring the baby home.  Siblings can become excited, prepared, and welcoming with these simple steps.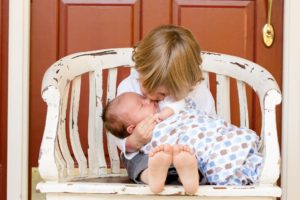 Toddlers
Your child probably understands more than you realize they do or more than they can express.
Talk about your new baby with excitement, share your preparations with them.
Talk about babies in general, point them out in stores and in your daily lives.
Read simple picture books about babies and being a sibling.
Preschoolers-
After a number of years of being your only child, your preschooler is very attached to you. They are sensitive to change and can feel threatened by your divided attention.
Talk to your child about families, siblings, and babies. Point out larger families and spend time with them to normalize your expanding family.
Read books about babies and being a sibling.
Consider enrolling in a sibling class.
Associate your due date with a manageable event. The baby will arrive after the cherry tree blooms.
Talk about how babies communicate by crying. Explain that they are helpless and need help and describe typical newborn behaviors. 'Newborns wear diapers and need mommy milk.  You wear underwear and eat pasta.'
Give your child a baby doll to orient and practice with.
Include your child in preparing for the baby and allow space for them to practice with their baby too.
Consider and make minor and major changes to your child's daily habits to prepare when you have a newborn. IE; teaching your child to climb into their own car seat or bed and bath time.
Expect your child's behavior to regress after birth. Be patient with them.
Plan to keep them in their daily activities so that they have 'me' time.
Purchase a 'sibling gift' from the newborn, such as a new baby doll or a sibling T-shirt.
School-age children-
In addition to the above, discuss pregnancy and childbirth. Find out what your child knows and correct any misconceptions that are appropriate. Use proper anatomical terms.
Consider watching videos around animals birthing or newborns.
Be honest about the changes a new child will bring.
Use a calendar to count down to the birth.
Talk about their childhood and what they were like as babies. Also, contrast them with things they can do now that they could not do then.
Talk about how the child can help you and the baby. Considering the maturity and ability they may be able to help with: holding, dinging or reading to the baby.
Plan a birthday party or celebration of both the baby's birth and the older children becoming a sibling.