PUPPS- Oh My!
Pruritic urticarial papules and plaques of pregnancy (PUPPP), is a chronic hives-like rash that strikes some women during pregnancy.  The rash looks like red eczema patches and can have blisters. The rash is extremely annoying and itchy.  The papules and plaques often first appear within stretch marks and spread on to the abdomen and spread to the legs, feet, arms, chest, and neck.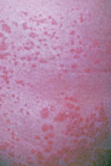 PUPPP is the most common pregnancy-specific dermatosis, occurring in one out of 130 to 300 pregnancies.  However, it presents no long-term risk for either the mother or the unborn child.
Why does it happen and am I at risk?
Despite its frequency, the cause of the condition is generally unknown, but there are a few things we know.
This skin condition occurs mostly in first pregnancies and typically shows up in the third trimester. It is further speculated that the maternal organs are being overtaxed by the pregnancy. Specifically, the liver and kidneys.  It is more likely with multiple pregnancies (twins and triplets) or in pregnancies where the belly is more distended.
A relationship between the maternal immune system and fetal cells can be disturbed and the systemic response, which shows up as PUPPS, may be due to fetal cells can migrate during gestation.
Certain studies reveal that this condition is more frequent in women carrying boys, although no formal research has been conducted. Statistics cite that 70% of PUPPS sufferers deliver boys.
No matter what the reason is for the rash, it usually resolves spontaneously around delivery.
Natural treatments
Cooling techniques for the rash include aloe Vera gels, witch hazel compresses, and cold showers or baths.  Some women report success with salves containing chamomile or calendula.  Pine tar soap is another favorite in the natural community as was a way to get relief in mild cases as it helps to cool the skin.
Herbalists treat PUPPS with dandelion tea and nettles to clear the organs and other blood cleansing herbs.  These and other adaptogen herbs may give relief if the rash is due to overtaxed organs, such as the kidneys and liver. Many of the herbs recommended are natural antihistamines and are also anti-inflammatory.
Aromatherapists may treat PUPPS with compresses and ointments.  A couple of recipes from Demetria Clark are:
4 olive oil with 10 drops Lavendula Angustifolia, 10 drops Pelargonium graveolens,  10 drops Santalum album, and 10 drops Matricaria recutita
Or
2 oz olive oil + 2 oz Jojoba oil + 5 drops vitamin E oil (1 capsule)  with 10 drops Matricaria recutita, 14 drops lavendula angustifolia, 10 drops Helichrysum angustifolia, and 10 drops Pogostemon cablin.
Chemical treatments
Mild cases can be managed with the application of topical moisturizing creams and ointments.  Corticosteroid creams and ointments can be helpful in more aggressive cases. Additionally,  oral systemic corticosteroid medications can be used in the most severe cases as there are possible unknown risks to the developing fetus(es).
Topical products include lidocaine sprays, hydrocortisone creams, and even calamine lotions.  Benadryl or antihistamines can be helpful for sleep and in more severe cases during the day.
Delivery option
Induction can also be a method of treatment.  Induction, however, carries its own risks and complications, and it may not be successful in resolving the rash as some rashes persist for one to two weeks after delivery.
Medical disclaimer
This blog is for information purposes only.  Please check with your healthcare provider before using any of these suggestions as your individual situation needs to be assessed.