Is It A Good Idea To Get A Dog When You Have A Baby?
Should you add a dog to your family?
I grew up with a dog. So I know, dogs are wonderful companions to welcome to the family and can help create many happy memories for you and your children. You hear many stories these days from people who have grown up with their loyal companions, and it's truly heartwarming. If you've got a baby on the way – or very young – you may have thought about getting a dog to grow up with your baby. But is it a good idea? If you're on the fence, we've broken down the idea so that you can make an informed decision about whether or not now is the right time to get a dog.
If you've already got a dog, then you'll already be well aware of how they're going to act around your baby. After all, you've taken the time to train your dog and you know what their temperament is like around children, and people altogether. However, if you're thinking of introducing a dog at the same time as having a baby, you might not have the same experience. Let's look at whether it's a good idea to get a dog right now.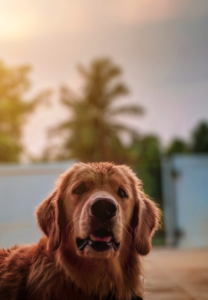 Photo by Mithul Varshan from Pexels
Babies and dogs alike are extremely time-consuming
You're well aware that babies are time-consuming. Whether it's feeding, changing their nappies, rocking them to sleep, or simply enjoying those wonderful moments together, new parents don't often get much time to themselves, let alone anything else in their lives. The same goes for a new dog, young or old. A dog would need time to adjust to their new living situation, not to mention new rules, behaviors that are expected of them, and a training regime – which is time-consuming for you. Before choosing to get a dog, think about the time implications this will have on you, your partner, and your new baby. If you can't commit to the time a dog will need right now, it might be best to wait until you do.
Not all breeds of dogs are easy to manage
Like humans, all dogs are different, and different breeds of dogs will be very different to manage than others. Consider things such as:
How much exercise they will need each day?

The overall temperament of the breed?

How boisterous are they?

Are they prone to barking/howling?

Were they bred to be pets or protectors?
The mature size of the dog?
Are they good with children and other animals?
If you would really like to get a dog when you've got a small baby, then you may want to consider a breed that's going to work well with a baby such as a Golden Retriever or a Labrador. That's not to say other breeds wouldn't work, but these are renowned for having lovely temperaments, especially around children. If you're choosing to buy your dog from puppy age, remember to buy from a responsible breeder such as lucky labs to ensure you're getting a true breed.
Can you afford a dog too?
Having a baby in itself is a huge financial commitment and when you throw a dog into the mix, you could be spending a lot more than you can afford. Not only do dogs need regular food, grooming, toys, and bedding, but they also need healthcare just like humans do. Also, dogs can become sick or injured at any time and when this happens, you could be left with a hefty veterinarian bill. While there are many pet health insurance plans out there, you still may have to pay fees. Take a look at your finances and ask yourself if you can realistically afford a dog as well as your new baby.
Will you have time to train your dog?
Like your baby, it's your responsibility to make sure that your dog gets the right training so that it behaves in a desirable way. This can take a lot of time, patience, and money if you're choosing to send your puppy to an obedience school. Between everything you have to do as a parent, will you actually have time to properly train your dog? If not, it's only fair to wait until you do have that time and patience to do it.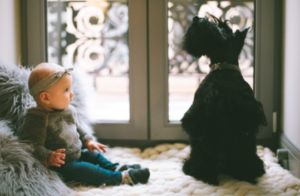 Photo by Daria Shevtsova from Pexels
Does your family have a line of dog allergies?
This is a difficult thing to predict, especially if your baby hasn't been born yet. However, if your family has a line of dog or pet allergies, then there's a chance your baby could too. If this is the case, it might be a better idea to wait until your baby is born and introduce them to the breed of dog you're after (perhaps through a friend or family member) to see if your baby is allergic. It wouldn't be fair to rehome a dog so soon after getting it because a member of the family has allergies.
Babies can startle dogs
Dogs feel anxious just like humans do, and a tiny baby crying may startle your dog and cause them to feel frightened. Some breeds of dogs are jumpier or more skittish than others, and may not be able to handle the high-pitched crying of a baby very well. This could cause them to behave poorly in their own home. If you're rehoming a dog from a shelter, be sure to check the dog's history to see how they act around babies and for any other warning signs.
Do you have the space for both?
Sure, a dog might only need a bed and a place for its food and water bowls, but they need plenty of space to run around and burn off energy – no matter what size the dog is! Additionally, babies – while very small – take up a lot of space in your home with everything they need such as their crib, toys, clothing, nappies, and everything else you'll find you need for your baby. Do you have space for both a dog and a baby to live comfortably? Consider this before making your decision.
As you can see, there are a lot of things to think about when considering buying a dog while you've got a small baby. If you can answer positively to these questions, then now would be a great time to welcome a dog!